Description
High Quality Din+ Wood Pellets
ENplus-A1 Wood Pellets
High Quality Din+ 
Wood
Pellets
Application:Heating System
Density:1,25 kg/dm³
COMMODITY: Bio-Fuel Grade Pine Wood Pellets
SPECIFICATIONS
Wood Type: Pine Wood Pellet
Dimensions (mm):
Length: 35mm
Diameter: 6mm
Width: 5mm
Moisture content: ≤10%
Calorific value: 4.8 – 5.3 %kWh/kg
Ash content: ≤ 3% (standard)
Bulk density: ≤600 kg/m
Sulfur content: ≤300 ppm
Chlorine: ≤ 800ppm
Quantity of Fines: <0,3% (15 kg pack)
Mechanical durability: ≥98%
Gross density (ca.): 1,25 kg/dm³
Moisture content: 4,0 – 8,0%
Ash content: <0,5%
Ash melting temperature: >1200 °C
Wood Pellets
Appearance:
Less Fines
Uniform length
Fresh wood flavor smell.
Smooth and shining and has no cracks
Yellow light burning flame
Does not float in water
ENplus-A1 Wood Pellets
shipment document that will be giving after loading Loading in container, Bill of Lading, Invoice, Phytosanitary certificate, Certificate of origin
Packaging Details :15 kg bag packing (60-80 bags on a pallet). 25 to 26 ton on a truck or as  Per client requirements.
Delivery Time : less than 1 to 2 days delivery around Europe after production and payment
High Quality Din+ Wood Pellets
THE QUALITY OF MM ROYAL PELLET
On Pellet Premium , you will only find pellets with European certification . 
This variety follows a very strict quality charter which allows it to develop optimal
heat production performance and to be of constant quality!
In order to guarantee you optimal use of your pellet boiler, stoves,
insert or any other pellet heating appliance , 
you must keep yourself informed of a few standards.
Pellet size : Some heaters in Europe are manufactured to use 8mm short pellets . 
In Belgium use 6 mm pellets . Short pellets burn faster while longer ones tend to jam stove screws .
 An ideal pellet pellet is between 3.15mm but less than 40mm.
Composition: Be sure to use 100% resinous pellets certified natural without added chemicals.
Ash content: The lower the ash content percentage, the less you will need to empty your ashtray. 
The amount of ash in your stove is relative to the proper combustion of your wood pellets .
 good combustion gives less ash .
Humidity rate: A humidity rate should never exceed 10%. The ideal rate is between 5 and 8%.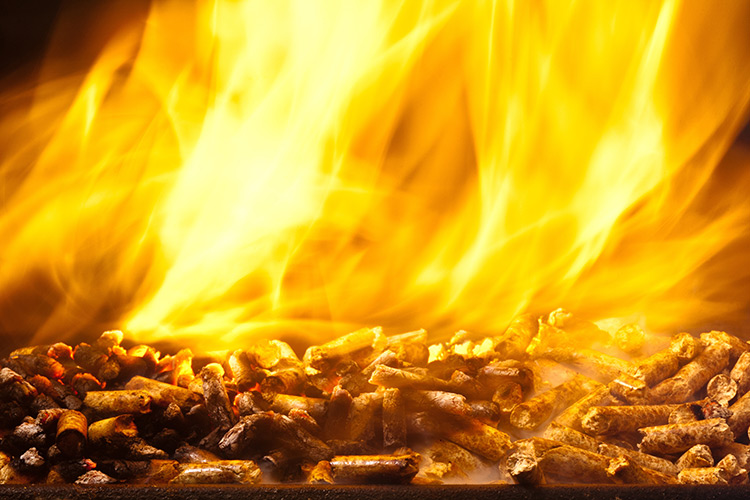 Composition: 

100% softwood (spruce)

Diameter: 6mm

Average length: 14.2 mm

Humidity: 7.2%

Ash content: 0.4%

Ash

 melting temperature  : 1430°C

Fine rate: 0.25%

Durability: 98.7%

Density: 690 Kg/m³

Calorific value

  : 17.57 MJ/Kg
Are to be added the facts that our pellets are manufactured without binder or chemical treatment, that it is ecological (its raw material being controlled in order to promote sustainable development ).